Help us create and deliver new work for a wide and diverse audience:
If you wish to become a Missing Piece in our Creative Puzzle and want to help us in our mission of bringing quality new theatre to YOU, then please get in touch with us by emailing Karen on: karenlynne1@icloud.com
Missing Pieces Theatre Show aim to create work for Families and people who might not otherwise attend a theatre performance; by creating work that we believe they will want to see.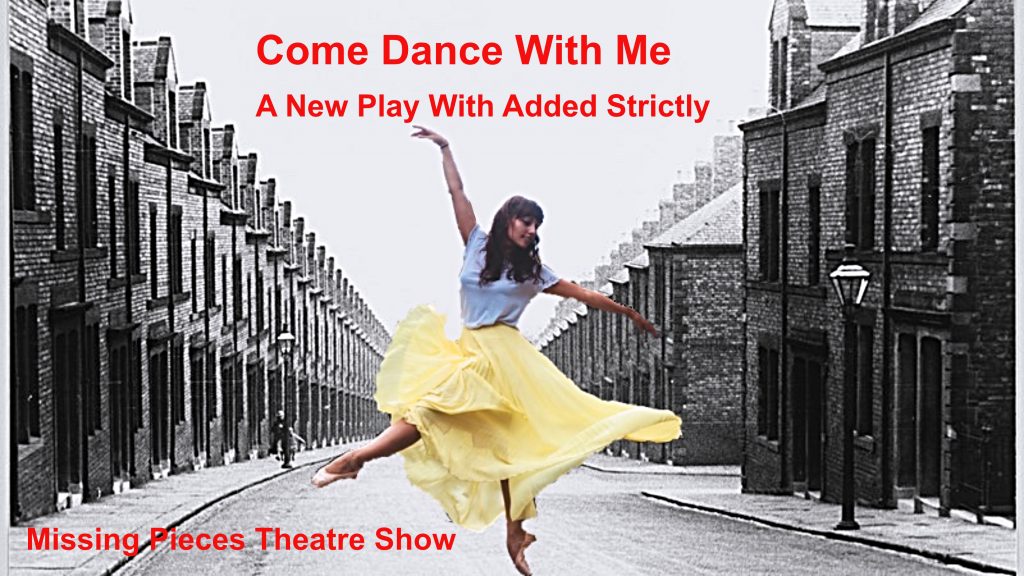 COME DANCE WITH ME is our first production and blends a funny and heartwarming Family play with stunning Strictly and Hollywood Dance routines choreographed by Richard Marcel, a world class choreographer, and danced by top notch dancer actors.
We make the play accessible through accompanying workshops that put in context the play that they will then experience. The workshop accompanying COME DANCE WITH ME aims to contextualise the play for a modern audience. It is aimed at schools, young disabled and young carers. Many of these NEVER attend the Theatre. The themes explored are the aspirations of a Family who find themselves facing many challenges including: Acquired Disability, having to be a Young Carer and coping with Bereavement.
For more on this show and the workshops that need support: follow the link to COME DANCE WITH ME
In COME DANCE WITH ME some even get the chance to appear in a part of the show and learn a ballroom routine crafted by our World Class Choreographer: Richard Marcel.
Richard has worked on Strictly and was featured as a judge for the Pro Challenges. He has also worked with Kylie, Madonna and Britney and now YOU!
Receive the following benefits:
Priority booking for all Missing Pieces Theatre shows and events
Invitations to development days and read-throughs
Production programme sent in advance of performances
Your name listed in our programme as a thank you
Appear in a show
Meet the creatives – actors writers choreographers technical crew
Become a Missing Piece:
Make a donation
Commit to a regular standing order – please see below
Become a corporate friend
To become a Missing Piece please contact Karen karenlynne1@icloud.com
Creating new work is expensive and most of the money spent is upfront. 
Typically a company will prepare, rehearse and tour on the road for several months without seeing any return on their investment.
This is why public funding of the arts was instigated. What you may not know is that our funding, (from tickets sales and an Arts Council England grant), only covers 60% of annual costs. Sadly public subsidy of the Arts is receding and impacts artists wanting to create new and challenging work for a wide audience.
As we are not a charity, but a Company Limited by Guarantee, we rely on you – friends, donors, businesses, trusts and foundations to fulfil our mission.
Being a Corporate Friend is a great way to support Missing Pieces Theatre Show alongside benefits that will inspire and incentivise your staff and clients.
LINK TO CORPORATE BUSINESS PAGE
Contact us to discuss the ways we can help you and your business.
WHAT YOUR DONATION CAN DO:
£10 a month can help fund the creation of a school education pack for a touring production A £150 donation can help provide rehearsal space, equipment and career mentoring for a young emerging artist to develop exciting new work for audiences. A £1,500 gift will enable us to deliver a school education workshop for a Missing Pieces touring show. You can help us by setting up a monthly donation via this standing order form
OTHER WAYS TO SUPPORT US: FRIENDS:
Become a Friend and join our growing supporter family, receive exclusive offers and benefits. Annual Friend £35, Best Friend £350, Lifelong Friend £700 
GET CLOSER TO THE ACTION WITH BEHIND THE SCENES OPPORTUNITIES
Join us and become part of something bigger – the Missing Pieces family! We have been helped greatly by the generous support of our Friends and are thankful for all contributions received over the years.
You can help us by setting up a monthly subscription via this standing order form"
Become a Friend today!
Download the standing order form here
FRIEND (ANNUAL MEMBERSHIP £35)
All members enjoy:
– Exclusive invitations to open rehearsals, play readings and events
– Newsletter with the latest company news and interviews
– A programme for each tour
– Priority booking for our productions
– A Souvenir Gift
– Missing Pieces pin badge
As a Corporate Friend you can support Missing Pieces Theatre Show: alongside benefits that will build awareness of your brand and inspire and incentivise your staff and clients.
It is a great way to cement relationships when you share a great evening out at the Theatre!
BUSINESS PARTNERS AND SPONSORSHIP 
We can develop a bespoke partnership with you to mutual benefit. Our creative passion and expertise can deliver a range of solutions that meet your business needs, contribute to leadership development and staff productivity. 
Our Co Artistic Director Graham has worked as Hypnotherapist, Coach, and NLP practitioner with many high level businesses and individuals.
Contact Graham for an informal discussion at: grahamahowes@me.com 
HOW TO MAKE A DONATION 
DONATE ONLINE: Contact Karen to make a one-off or regular donation. 
All of the money you give goes directly back into delivering projects. This increases our income and helps us reach more people with our work. 
PASS ON THE PASSION 
Help us reach many more supporters and spread the word. 
Follow and Like us on Facebook:  https://www.facebook.com/MissingPiecesTheatreShow/
Missing Pieces Theatre Show Ltd,
71 Lacey Street,
IPSWICH SUFFOLK IP4 2PH