A Question of Errol Flynn – a new play about Errol Flynn by Karen Lynne
Errol Flynn will be sailing into a port or appearing in a theatre near you.
Errol  battles with his Biographer, his Mother and Girlfriend – and his demons and addictions – so you can be sure of verbal fireworks, fencing and very adult themes – as you might expect.
Definitely for 16 and over!
The play has adult language, themes, and scenarios.
"I find that the world is a much kinder place with a drink inside you. It keeps the demons out." ERROL FLYNN

Welcome aboard Ladies and Gentlemen!
Image may be subject to copyright
A New Play about Errol Flynn
Missing Pieces Theatre Show Ltd are producing a new play about ERROL FLYNN called: "A Question of Errol Flynn."
An evening with Errol Flynn as we watch him spar with his Biographer, Girlfriend, and his much loathed Mother.
This new play has previously been seen in a semi staged version at the Aldwych Theatre in the West End with a stellar cast and at Lauderdale House Arts Centre in Highgate, London.
Karen has returned to A QUESTION OF ERROL FLYNN and radically reworked the play  which currently has had many expressions of interest.
It is a terrific funny, thoughtful, and challenging, star vehicle for four amazing actors!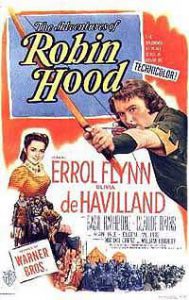 Errol Flynn Hero of the Silver Screen
Errol was the definitively heroic and romantic Robin Hood – and yet had a public persona which both scandalised and fascinated people.
Karen Lynne has studied Flynn, the enigma, for many years – and comes to some surprising conclusions.
We watch as an older Flynn attempts to set his life down on paper.
Sadly he says: "I don't know what the truth is any more!"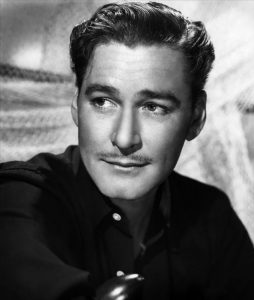 Image may be subject to copyright
From the moment he hit Hollywood the myth making began: the studio said that he was born in Ireland because nobody knew where Tasmania was!
Flynn, however, had already been making up myths about himself for a long time!
In his first acting job in rep at Northampton, for instance, he suggested he was an Australian film star.
This was on the basis of appearing in a low budget Mutiny on the Bounty in a terrible blonde wig and overacting! They were skeptical, but as he played cricket, were happy to have the handsome young man in the company.
He was spotted by a Warner Brothers talent scout and his fate was set.
ERROL: Grins I'm too much for you aren't I Sport!
WRITER: grins back Yes, but I'm getting used to you now.
ERROL: Listen kid, if I've missed anything out, it's up to you to fill in the gaps.
WRITER: And if I don't know what they are?
ERROL: Make them up, but for God's sake make them interesting.
Copyright: Karen Lynne Foreman 2017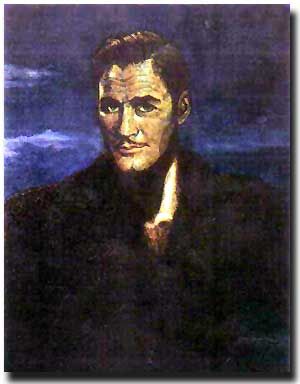 He was a sensitive and deeply read man, who wanted to be a writer.
He was contradictory and could be difficult at one turn and charming the next.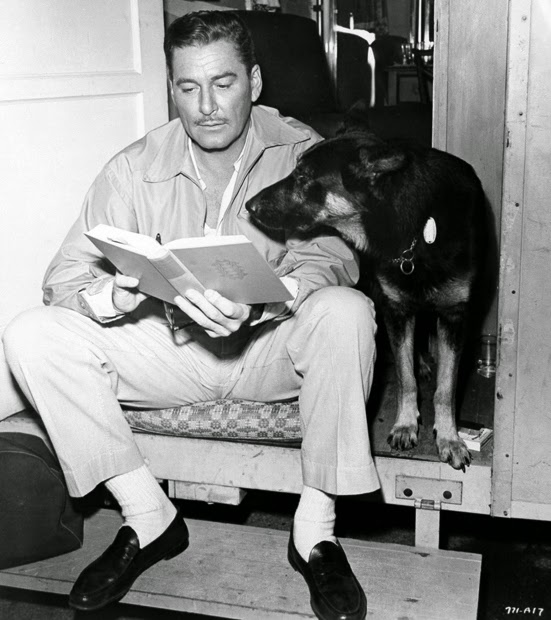 Image may be subject to copyright
Karen's play offers an insight into the mind of the REAL Flynn. It is both hilariously funny, scabrous and naughty, and then tragic and philosophical.
The Play contains adult language and themes throughout as may be expected. The Play also explores addiction.
It is unsuitable for children.
We are happy to answer any private enquiries:
Call Graham on 07875720623 / 01473 879561
Email: grahamahowes@me.com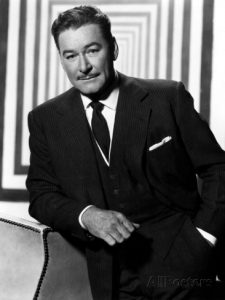 Many thanks to Rory Flynn for her gracious permission to write this new play.
Thanks to: David DeWitt, Lincoln D Hurst, Robert Florcza and many others of the Flynn clan.
Karen was a consultant on the Errol Flynn Documentary by the Australian Broadcasting Corp.
"I thought it was very well written! Kudos. … All in all a play I'd love to see!"
Robert Florcza
Errol Flynn authority and adviser on THE LAST OF ERROL FLYNN film with Kevin Kline.
Errol Flynn Family Website: http://www.inlikeflynn.com/
We had a rehearsed reading courtesy of the Aldwych Theatre in London's West End to a packed house with Warner Bros staff and the Australian High Commissioner in attendance:
Thanks to our brilliant workshop cast!
Errol Flynn Tim Goodman
Biographer Glynne Steele
Girl                  Gemma Whitelam
Mother         Karen Mann
Directed:    Graham Howes
Thanks to Chris Copeland for photos and to the Aldwych Theatre for the use of the theatre.
We had a previous reading at Lauderdale House in Highgate with:
Brendan Hughes as Errol
Katy Jo Howman as The Girl
Lee Byron Jones as The Biographer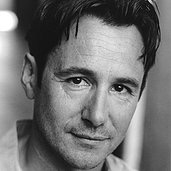 A Question of Errol Flynn – A New Play by Karen Lynne
MISSING PIECES THEATRE SHOW LTD