Come Dance With Me – the Development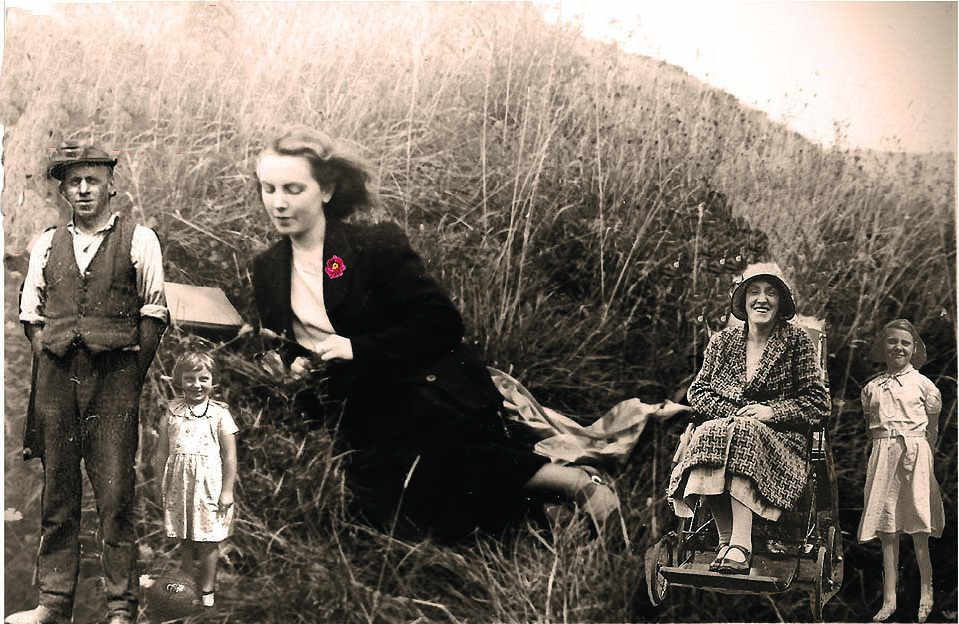 Come Dance with Me – the real family in our story:
Left to right: Harry Hauxwell, Young Lillian, older Lillian and Vi on a wheelchair with  young Joyce.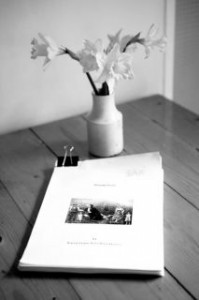 The first reading of Missing Pieces – now called Come Dance With Me – a Play with added Strictly. Photo Vincenzo Squillino
We had held a semi staged reading at Live Theatre in Newcastle in 2011.
We then held a two week rehearsed development workshop with the dance routines in October 2012 at The London Welsh Centre. 
We were awarded an Arts Council Grant and a grant from Unity Theatre Trust.
We then presented our workshop to the public and industry professionals on October 11th 2012.
We were fortunate to work with an extraordinary group of collaborators who went the extra mile, and so we were able to  show a good 70 percent of the work in progress!
Reactions were extremely positive and were worked into the later drafts
Call: 01473 879561 or mobile: 07875720623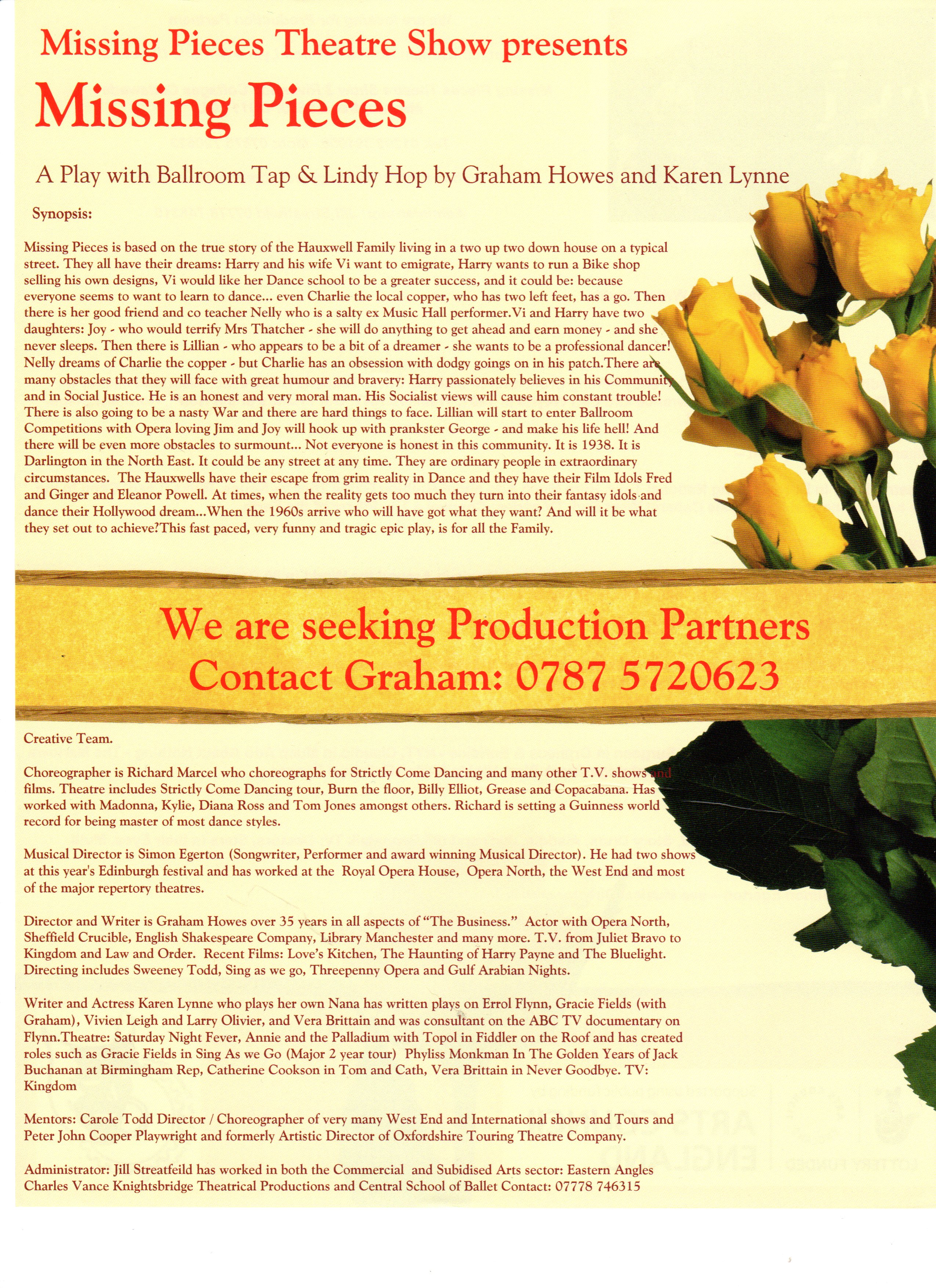 Programme for the past Arts Council Workshop above
Come Dance With Me was staged and toured in 2019 go here for details: Come Dance With Me
Email: grahamahowes@me.com

Missing Pieces Theatre Show Ltd
Come Dancing – the BBC TV forerunner to Strictly Come Dancing and Dancing with the Stars
Competitive Dancing became so huge in the last century that eventually the BBC began the long running programme: "Come Dancing" – which ran from 1949  to 1988 making it one of the longest running shows in television history!
One of the typical comments from that show was: "2,000 sequins on that dress – and every one sewn on by hand!"
But a feature of Come Dancing was amateur dancers competing as teams and individuals from various areas to win.
And in those local areas the prizes for amateurs were often remarkably low value prizes, for instance, vases!
The prize of Come Dancing was actually the kudos of winning the coveted trophy and the glory for your local county!
And one formidable formation dance team was run by the fearsome Peggy Spencer MBE.
They featured strongly, and won often, in COME DANCING on the BBC TV.
And in training Peggy used to sit up high on a stage and issue rebukes and instructions through a loud hailer. And the parents would sit in terrified silence
Peggy went on to become the President of the Imperial Society of Dance Teachers (ISTD) – which is still the standard bearer for excellence in Dance Training.
Peggy trained our choreographer, Richard Marcel, a nice coincidence.
She also told us that she choreographed the ballroom sequence in the "Magical Mystery Tour" for The Beatles after being rung up personally by Paul McCartney in the wee small hours!
She asked who her late night caller was; he said: "It's Paul."
"Paul WHO?!" she demanded!
Peggy gathered together her people and they arrived at an aircraft hanger to shoot the sequence. This involved the Beatles dancing down a huge staircase past Ballroom Dancing couples.
But there was no access to the stairs at the back!
Time passed and they played the music and she had to explain that wanting a waltz to: "Your Mother Should Know." which was not in 3/4 time – as she had been told – but 4/4 time, was going to be difficult.
Paul said that they would freeze on each 4th beat … Peggy was not amused!
She told us that The Beatles had difficulty learning the choreography.
In the end Peggy walked just ahead of The Beatles staying out of sight just under the Camera, walking the choreography for them to follow!!
Peggy was never sure if it was the wacky baccy or the Maharishi that had made them so other worldly that they couldn't get the routine – but it was certainly an experience that she never forgot!
Living in a Community
COME DANCE WITH ME recalls the time starting from the Recession through the Second World War, from the late forties and early Fifties, and the emigration of the "ten pound poms," to the first appearance of Come Dancing on the BBC TV in 1949.
We look at that period without nostalgia and through the clear lens of what connects us to them
Communities looked out for each other and yet some people were at war within the community.
The community portrayed in Darlington is an actual one.
The show recalls some of the real life characters and reflect some of the major events- although names and specifics have naturally been changed for dramatic purposes!
Harry and Vi Hauxwell were certainly real people. They were the grandparents of co author Karen Lynne Foreman and lived in Darlington!
During the writing of the drama, we talked to many people who could still remember them.
One gentleman had been in the paratroopers and was parachuted in on D Day – with enemy forces shooting at him and his fellow soldiers as they dropped from the sky.  We told him that he was a real hero and he modestly replied: "I was just doing my job …" He was trained in the TA by Harry Hauxwell – one of our real life characters.
Another lady told us how when she went to school how Harry used to throw her an apple from his allotment as she passed the front door in Lewes Road Darlington.
We also heard of some of the local customs of the day when there was a death in the street and the coffin would be left open and the kids invited in for a look!
Anyone remember swinging on the lamp post?
Cast of characters of Come Dance With Me:

Harry Hauxwell is a passionate socialist – which often gets him into scrapes with authority. He is a Carpenter, and builds and designs Bicycles, and he lives for his allotment!
 Violetta Hauxwell teaches Ballroom and Tap. Vi has a sharp sense of humour, intelligence, and great determination – favourite saying: "I can manage!" She does not suffer fools.
 Harry and Violetta have two daughters who grow up through the play:
 Joy, the eldest, becomes a hard nosed entrepreneur with ambitions well beyond her surroundings.
 Lillian wants to be a professional dancer – which is not taken seriously in the light of the turbulent times that they are living through.
 Jim starts off as a rather serious young boy, loving opera and ballroom dancing
 George is a practical joker, full of fun, and easy going, he grows up to become an engineer.
In addition for the TV series:
Charlie is the local bobby. In life, as in dance, he is always a few steps behind.
 Nelly is Vi's best friend – an ex music hall performer – salt of the Earth, salty and tough, but also capable of great kindness. She is an amazing tap dancer.
 These are the main characters in our story but there are other characters like Jock the salesman, and Wilf the local wide boy, who can be played in a minimum company of eight plus local community dancer performers.
The dance routines are choreographed by Richard Marcel resident choreographer from STRICTLY COME DANCING and much more … If you love "Strictly" you will love this!
 Our Musical Director for the Arts Council and Unity Theatre Trust sponsored Workshop was singer songwriter actor director Simon Egerton.
 The workshop and earlier staged reading were both directed by Graham Howes. 
 Here is our phenomenally talented cast that were such an integral part of the Development Workshop presentation on October 11th 2012 –
Vi Hauxwell                                          Karen Lynne
Harry Hauxwell                                 Bill Fellows
Lillian Hauxwell                                Emily Holt
Joy Hauxwell                                      Hannah Wood
Jim                                                            Tadhgh Barwell O'Connor
George                                                   Kenny Davies
Charlie                                                    Simon Egerton
Nelly                                                         Susie Fenwick
MISSING PIECES THEATRE SHOW LTD
71 LACEY STREET
IPSWICH SUFFOLK 
IP4 2PH
UK
TEL: 01473 879561